Hi All! Happy Monday! I am not a big fan of corned beef and cabbage so I decided to make something a little sweeter in honor of St. Patrick's Day. Chocolate Whoopie Pies with Irish Cream Filling. I found a highly rated whoopie pie recipe on All Recipes and used that for the cookie part. I used a recipe for Bailey's Irish Cream Frosting from recipegirl (an amazing site that you should all visit!) for the cream filling. I was quite impressed with the whoopie pies, they had a deep chocolate flavor and stayed SO moist! The Bailey's frosting is thick and creamy with just the right amount of Bailey's flavor. A little tip, add the powdered sugar slowly and with a light hand, it helps keep the frosting from being too grainy (a tip my mom taught me).
The green sprinkles are, of course, optional, but I think they lent a nice St. Patty's Day feel to the pies. Hope you enjoy!
Chocolate Whoopie Pies
1/3 cup unsweetened cocoa powder
1 teaspoon vanilla extract
Preheat oven to 350 degrees F (175 degrees C). Grease or cover cookie sheets with parchment paper. I actually did one batch on cookie sheets and one batch in special whoopie pie pans, both turned out great, proving that I probably didn't need to invest in whoopie pie pans... but live and learn!
Sift together the 2 cups flour, baking soda,1/4 teaspoon salt, cocoa and 1 cup sugar. Set aside.
In a medium bowl stir together the egg, oil, 1 teaspoon vanilla and 3/4 cup of milk until well blended.
Gradually stir in the sifted dry ingredients.
Drop by tablespoonfuls onto the prepared cookie sheets. I used whoopie pie pans, but these would work just fine on regular cookie trays. Bake for 10 to 12 minutes in the preheated oven, until firm.
Allow to cool on baking sheet for 5 minutes before removing to wire racks to cool completely.
Bailey's Irish Cream Filling
1 cup butter (2 sticks), at room temperature
4 Tablespoons Bailey's Irish Cream
2 teaspoons vanilla extract
Place butter, cream and vanilla in a large bowl.
Use an electric mixer to blend together, slowly add powdered sugar until you reach desired consistency (smooth and creamy).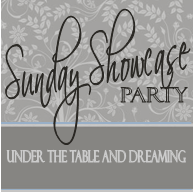 http://www.getouttamyheadplease.com/2012/03/show-it-off-link-party-14.html